Stories about Professor Bernard Sarchet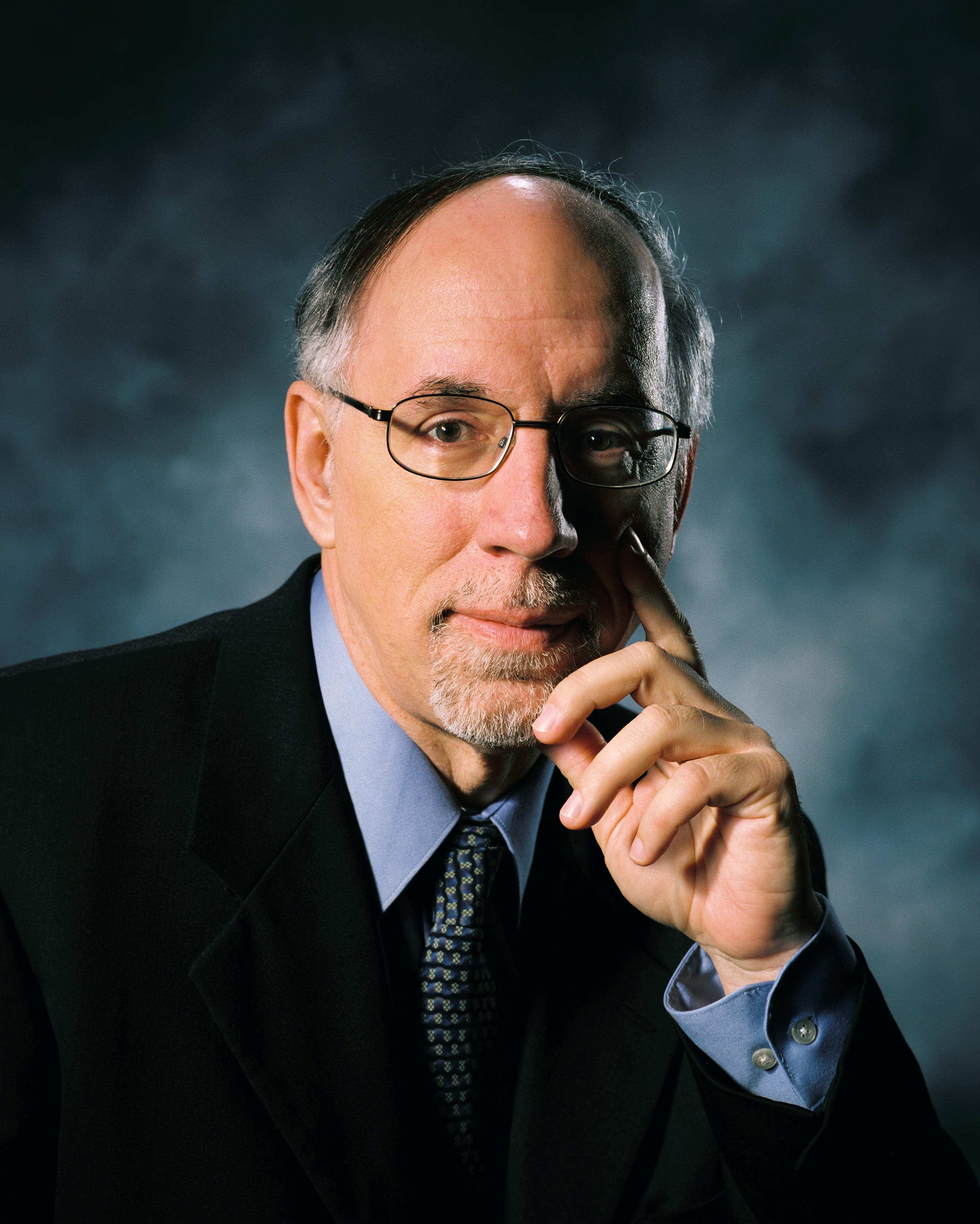 My Experience with Professor Bernard Sarchet
by Jim Lucas, EMgt'72
I came out of high school in St. Louis in 1968, a year when everyone was talking about NASA and moon shots and engineering as a profession (and as a way to get the highest starting salary with a bachelor's degree). There was precious little career counseling back then (I got none), so you were making it up for yourself as you went along. I wanted to go to a great engineering school that was far enough away from home to allow that "individuation," but close enough that Mom could still do my laundry, so I chose Rolla over Notre Dame, Purdue and other fine schools.
As the first semester went on, I began to feel that I had made a terrible mistake. I had always done well at math and science, and I really liked that side of the Rolla experience, but I realized that I also had a high level of interest in the "people" side of life – organizations, teams, leadership, and management. The left side of the brain was doing its linear thing, but the right side wanted to experience the other side of successful business life – the creative or "soft" things like team culture and human motivation (that it turns out are really the hardest to do well). So I was ready to transfer, and started looking at other schools.
And then I saw a notice on a bulletin board, talking about something called "Engineering Management." A moment of serendipity, but that very term called out to me as "left and right brain," as the complete package of what I wanted to be and do.
I decided to look the department up, which was no mean trick because by "department" it meant a cubbyhole in an old building. I wandered in and asked if I could talk with someone about what this "Engineering Management" thing was. I thought I'd perhaps get to talk with a teaching assistant.
Before I knew it, I was sitting in front of Professor Bernard Sarchet, the founder and head of this first department of its kind in the country, a department just two years old. He sat back and started waxing on about this new program. He had a favorite stat, "By 1980 half of all engineers will be in some kind of management or supervisory role." He went over the curriculum. He told me that some people would think this was a soft program for people who couldn't make it as a "standard engineer," but that this program was actually more complex than the "standard." He said that a lot of those straightforward engineers (for whom we are all grateful) could never pull off an engineering management career.
After a while, he leaned back and put his feet up on his desk. I had never had a session to discuss career with anyone, and here this accomplished gentleman was talking with me like he didn't have anything else to do the rest of the day. We talked about what it meant to lead people on complex projects, what managing successful technical organizations really looked like. As I recall, we talked for an hour and a half, and by the time we were finished I was sold. I walked straight over to the admin building and switched majors.
I graduated in 1972, and went to work for Black & Veatch. I started in a staff role, but before I knew it I was a key member of the project management group on several major power plant and industrial projects. The EM background paid off that fast, in part because I could address things that the "standard" engineers couldn't. In 1979 I was hired by Hallmark Cards to manage their worldwide facility expansion program, got to hire my own key team of a dozen mostly engineers, and used everything I ever learned in EM at Rolla. In 1983, I founded my own consulting practice, Luman International, and have used that EM background to speak to, train, and consult with over 200,000 people and over 250 organizations in the past 33 years.
In 1978, I decided that I was going to get a professional engineering license in Missouri. I passed both tests (then the EIT and PE exams), got the reference letters, and sent the package in. Before long, I was told by the Missouri Board that I had to come to Jefferson City to explain what this "Engineering Management" thing was before they would even consider granting me a license. I sat in a room with a large number of very experienced "standard" engineers who had worked up a big dose of skepticism.
I was a kid compared with them, but I channeled my "inner Bernie" and answered their questions with everything he had taught me.
Key questions: "What the heck is Engineering Management?" and "Why would someone with that background want to get a professional license?" I was a kid compared with them, but I channeled my "inner Bernie" and answered their questions with everything he had taught me. I got my license, the first person out of our program to be licensed in Missouri, and Bernie gets a lot of the credit for that.
I had the privilege of being inducted into the Academy of Engineering Management in 2005, and served as President of the Academy from 2005-2007. My most thrilling moment as President was when I got to induct Bernard Sarchet into our Academy – with his daughters in attendance to accept the honor. He would have loved what this program has become under some terrific leadership.
I have had 5 books on leadership and culture published based on my consulting experience. One of the books was on managing leadership paradoxes, the complexity that Bernie always talked about. I had the privilege of dedicating that work to him.
No matter who you are, how young or old, if you have an Engineering Management degree from this great school, you owe Mr. Sarchet a very big thanks on this 50th anniversary of his founding of our beloved department.
Thanks, Bernie. For everything.
Memories of Professor Bernie Sarchet
Course EM-314 and graduation ceremony
During the early and mid-80s, Dr. Bernie Sarchet participated in teaching the MSc degree program in engineering management in Dhahran, Saudi Arabia. Classes were held in Dhahran over a three week schedule and the program was sponsored by ARAMCO.
1984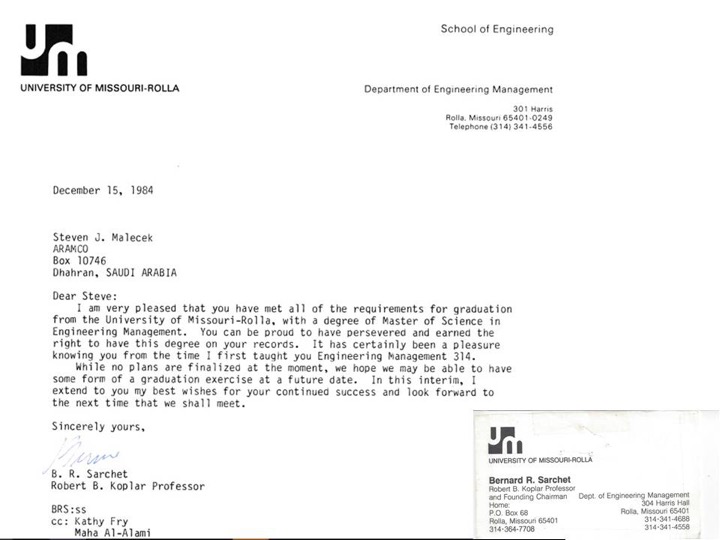 Dear Steve:

I am very please that you have met all the requirements of for graduation form the University of of Missouri-Rolla. You can be proud at have preserved and earned the right to have this degree on your records. It has certainly been a pleasure knowing you from the time I first taught you Engineering Management 314.

While no plans are finalized at the moment, we hope we may be able to have some form of a graduation exercise at a future date. In this interim, I extend to you my best wishes for your continued success and look forward to the next time that we shall meet.

Sincerely yours,
B.R. Sarchet
Robert B. Koplar Professor
1985
Gaining a Master of Science Degree in Engineering Management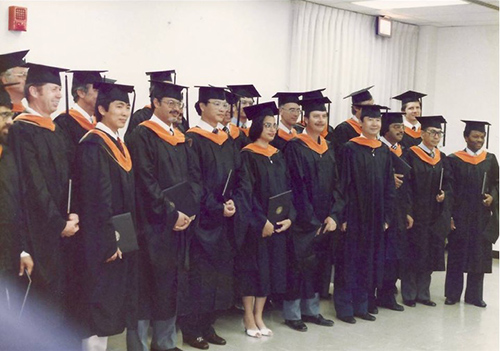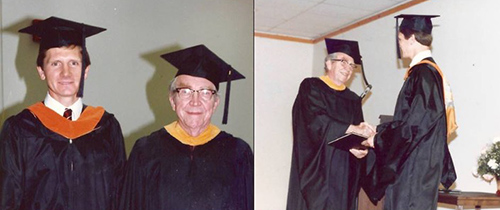 2013
2013 GRADUATION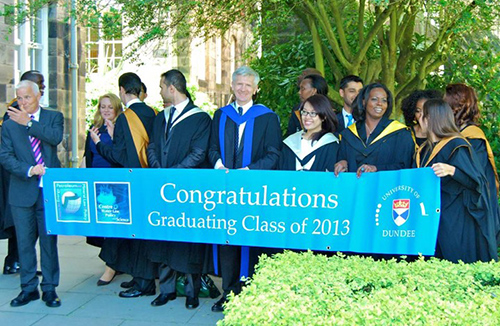 Phil D. Batton - Remembering Bernie